Evo NexGEN is an innovative gas conversion system for cars equipped with Turbo & Direct Injection engines (e.g TSI, FSI, GDi, T-GDI, Boosterjet, Ecoboost,etc) .The product is specially designed to use only 5-15% of petrol along with gas whereas other competitive systems require the injection of almost 20-30% gasoline. Evo NexGEN provides Maximum Savings and best Gas performance in TGDI / TSI / TFSI engines.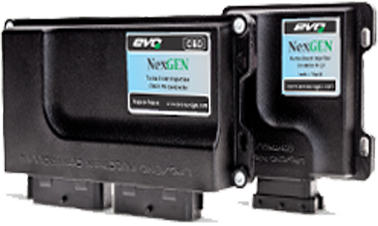 Why Petrol consumption is necessary in Direct Injection Engines on CNG/LPG
In engines with direct petrol injection, petrol injectors are placed directly in the combustion chambers, and their tips are exposed to high temperature and to the effects of combustion. So the injectors need gasoline to clean themselves, and the flowing fuel would also cool them preventing burnout. Therefore, the CNG / LPG installation for direct injection engines should not permanently disable the petrol injectors.
The amount ​​of petrol used for cleaning and cooling the injectors may vary, depending on the capabilities / algorithms of the gas controller / ECU and the requirements of a given car model. In the EVO NexGEN system, the proportion of gasoline most often ranges from 5% to 10%. In more complex engines it will be about 15%. which is significantly lower than most other controllers.
Advantages of Evo – NexGEN Direct Injection System
Ability to regulate Petrol Consumption
Integrated OBD Module
Excellent Performance & Drivability
Supports most Turbo & Direct Injection Engines
Most reliable system (2yr Warranty)
Evo NexGen Turbo and Direct Injection systems have been designed, developed and manufactured after years of research with 24 years of experience in this industry. It offers most advanced algorithms for fuel delivery for modern engines, yet are very RELIABLE and user-friendly.
All components are of world class QUALITY , matched perfectly to ensure safety, long life and economical driving on CNG/LPG fuels.
At Evo, 99.7% of our Systems are failure free. Their failure rate is only 0.3% Systems are manufactured as per ISO9001 quality certifications and homologated in Europe for ECE 67R, 110R, 10R accreditations.
State-of-the-art solutions used in our controllers enable outstanding Economics & Performance from Turbo and DI engines. EVO NexGEN systems provide you with above-average SAVINGS as minimum Petrol is used to start the engine, cool and lubricate the petrol injectors which is 5-15% max, Most other systems normally consume almost 20 – 30% of Petrol along with gas.
NextGen Systems are available for a wide range of TSI ,TFSI, FSI, GDI, T-GDI, Ecoboost, Boosterjet, CGI engines. Please contact us for knowing best solutions available for your Direct Injection or Turbo DI car.